2/11/2019
Filler: Da Bus
Okay so I've been struggling more and more with getting my pages done this past three weeks. Events have piled up to make it near impossible for me to sit down and do the art work. So while I have a three day weekend this weekend and could kill myself to get the pages knocked out under the wire, I've realized that I don't need to stress myself out in that manner.
So I am taking a week's hiatus on both comics to catch up.
However I didn't want to leave you guys/COTW promos in the lurch, so I am showing you guys my bus interior shot without all the FX/kids, etc.
Won't lie... I totally referenced this shot, but it was still a lot of work to get it where I wanted it to be. I'm pretty proud of how it came out overall. Now I left the FX off this version for reasons, because a lot of this comic takes place on this bus and each time it will be a different time of day, I wanted to be able to play with the lighting in each successive interior shot I use.
I hope to be back in the swing next Monday, but I will keep you guys in the loop on how things progress! :)
Comics of the Week 6!
This week's comics are all about adventure in fantastic worlds! Really solid fantasy settings and unique takes on the genre to boot! Check em out!
Castoff - Vector always dreamed of traveling. He got kidnapped instead. Now, with the help of a short-tempered bounty hunter, a happy-go-lucky cartographer, and many more unlikely friends, he has to try and make it home in one piece.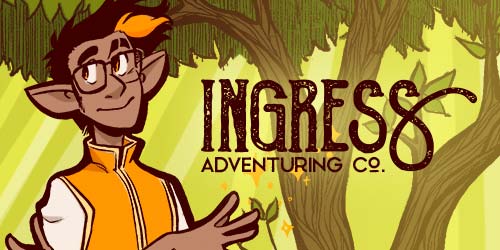 Ingress Adventuring Company - Toivo Kissa is Ingress Adventuring Co., a very small, very wizard-based dungeoneering service. No job is too small, though sometimes his adventures are problems of his own making.
Children of Eldair A sorcerer saves a girl from flesh-eating demons. After trying to use magic to find her friends, he's trapped in a vision of the past--one that will help him save the world and the girl he loves.